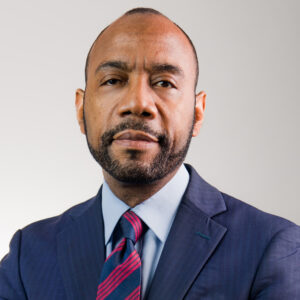 Faculty Director, William Monroe Trotter Collaborative for Social Justice
Hauser Professor of the Practice of Nonprofit Organizations and Professor of the Practice of Public Leadership and Social Justice at Harvard Kennedy School
Visiting Professor of the Practice of Prophetic Religion and Public Leadership at Harvard Divinity School
Cornell William Brooks is the founding Faculty Director of the Trotter Collaborative, as well as the Hauser Professor of the Practice of Nonprofit Organizations and Professor of the Practice of Public Leadership and Social Justice at the Harvard Kennedy School. He also serves as Visiting Professor of the Practice of Prophetic Religion and Public Leadership at Harvard Divinity School. Brooks is the former president and CEO of the NAACP, a civil rights attorney, fourth-generation ordained minister, writer, orator, writer, and the executive producer of two films.
Under his leadership, the NAACP secured 12 significant legal victories, including laying the groundwork for the first statewide legal challenge to prison-based gerrymandering. He also reinvigorated the activist social justice heritage of the NAACP, dramatically increasing membership. He conceived and led "America's Journey for Justice" march from Selma, Alabama to Washington, D.C., over 40 days and 1000 miles, among many other demonstrations.
Prior to leading the NAACP, Brooks was president and CEO of the New Jersey Institute for Social Justice. He also served as senior counsel and acting director of the Office of Communications Business Opportunities at the Federal Communications Commission, executive director of the Fair Housing Council of Greater Washington, and a trial attorney at both the Lawyers' Committee for Civil Rights Under Law and the U.S. Department of Justice. He was also the executive producer of the CNN docuseries The People v. the Klan.
Brooks holds a J.D. from Yale Law School, where he was a senior editor of the Yale Law Journal and member of the Yale Law & Policy Review, and a Master of Divinity from Boston University's School of Theology, where he was a Martin Luther King, Jr. Scholar. He also holds a B.A. from Jackson State University. He is a fourth-generation ordained minister in the African Methodist Episcopal Church.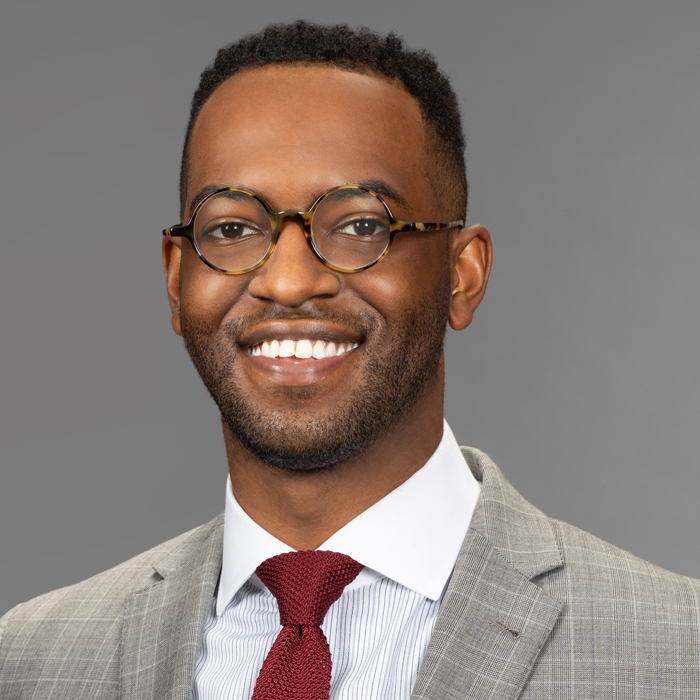 Devon Jerome Crawford is the inaugural Staff Director of the William Monroe Trotter Collaborative for Social Justice in the Center for Public Leadership at Harvard Kennedy School. Devon was born in Birmingham, AL and raised in the historic dynamite hill neighborhood. Devon is a proud graduate of Morehouse College, where he was the Martin Luther King Jr. Scholar and Oprah Winfrey South Africa-Zimbabwe International Leadership Fellow. Devon then studied at the intersection of theology and social ethics at the University of Chicago Divinity School. At the University of Chicago, he was chair of Alchemy in Color, the Divinity School representative for the university's Student Advisory Committee for Civic Engagement, and board member of the Association of Black Seminarians National Assembly. During Divinity School, Devon served as the Addie Wyatt-Bill Lucy Fellow of the Samuel DeWitt Proctor Conference, a student minister at Trinity United Church of Christ, a board member of the Birmingham Sister Cities Commission, a Leadership Network member of the Black Church Center for Justice and Equity, and a Senior Fellow of Humanity in Action Inc. Devon is an associate producer and researcher for the Ase Research Film Project's forthcoming film "Ubuntu Rising." An ordained minister, Devon serves as the Minister for Social Justice and Community Engagement at the Historic Myrtle Baptist Church in West Newton, MA.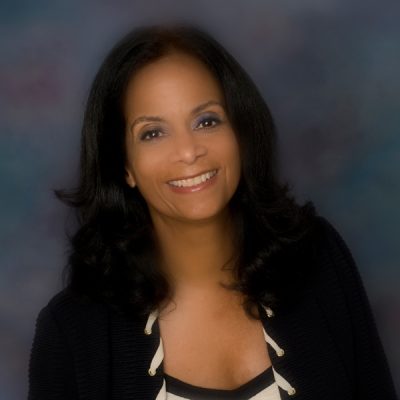 Founder and Chief Executive OfficerThe Barthwell Group
Dr. Akosua Barthwell Evans is the Founder and Chief Executive Officer of The Barthwell Group. Prior to launching The Barthwell Group, Dr. Evans was an accomplished banker, lawyer, and management consultant. In addition, throughout her career, Dr. Evans has provided leadership to a variety of not-for-profit organizations throughout the United States through her board service.
As a securities and corporate attorney, Dr. Evans advised Fortune 500 corporations on initial public offerings, debt financings, project financings and acquisitions in the United States, Asia, Latin America, and Scandinavia. As a management consultant at Coopers & Lybrand, Dr. Evans assisted clients with business and strategic planning, feasibility studies, and obtaining financing. She became the first woman manager in the consulting practice of Coopers & Lybrand's Detroit office.
Dr. Evans is a graduate of Barnard College and Yale Law School where she was a Co-Marshall of her class and won the Edward R. Robbins Memorial Prize for her writing. She holds a Ph.D. and M.Phil. from Columbia University.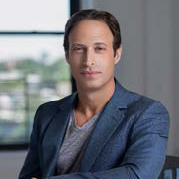 Founding Partner and Chief Executive Officer RBH Group
Ron Beit is the founding partner and CEO of RBH Group, LLC, president of RBH Management, LLC, asset and property management companies; as well as managing member of RBH-TRB Newark Holdings, LLC. Ron has acquired, developed, rehabilitated, and/or operated over 1 million square feet of existing commercial and residential real estate in numerous projects throughout the U.S. as well as over 6 million additional developable square feet in institutional-grade sites throughout downtown, Newark, NJ.
Ron is on the New Jersey Committee of the Regional Plan Association and is co-chairman of the board of the New Jersey chapter of Teach for America. He is also a board member of the Newark Alliance, St. Benedict's Preparatory, Integrity House and the and the Greater Newark Convention and Visitor Bureau. Ron is also an active participant and contributor to several other charities.
He earned his Bachelor of Arts degree in Economics from the University ofWisconsin, his Juris Doctorate at New York Law School, and has been admitted to both the New York and New Jersey Bar Associations.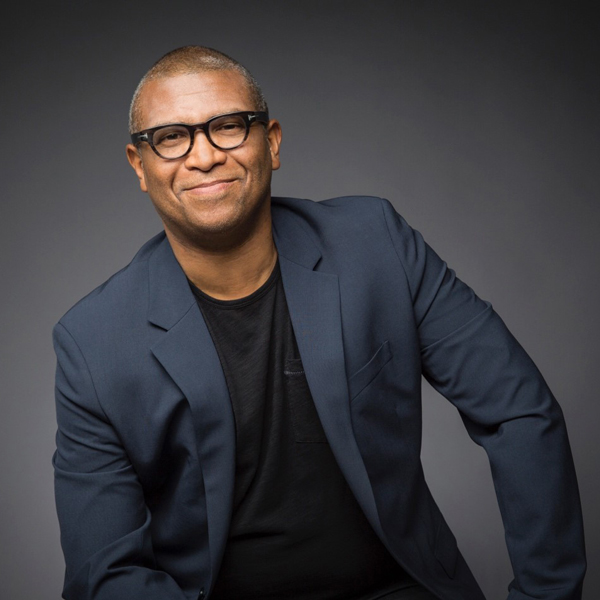 President Hudlin Entertainment
Reginald Alan Hudlin was born on December 15, 1961, in Centreville, Missouri. He was raised in East St. Louis, Illinois, by his parents Warrington W. Hudlin, Sr. andHelen (Cason) Hudlin. In 1983, Hudlin received his B.A. degree from Harvard University where his senior thesis project was the first version of the film, House Party. Hudlin was supported as an artist-in-residence by the Illinois Arts Council from 1984 to 1985.
At the age of seventeen, Hudlin co-founded the non-profit Black Filmmakers Foundation (BFF) with his brother, Warrington Hudlin, Jr., in 1978. The brothers then formed Hudlin Bros., Inc., a production company which made several popular music videos for MCA and Polygram Records for artists like Heavy D and the Boyz, Guy and Blue Magic. In 1990, Hudlin expanded his Harvard thesis project into the full length feature film House Party, starring the rap duo Kid 'N Play. Hudlin directed the hit movie Boomerang in 1992, starring Eddie Murphy.
Hudlin sits on the Board of Governors for the Motion Picture Academy and the board of UCLA Film, Television and Theatre Department. He is a member of the Motion Picture Academy, the Directors Guild of America (DGA), the Writers Guild of America (WGA) and the Screen Actors Guild (SAG).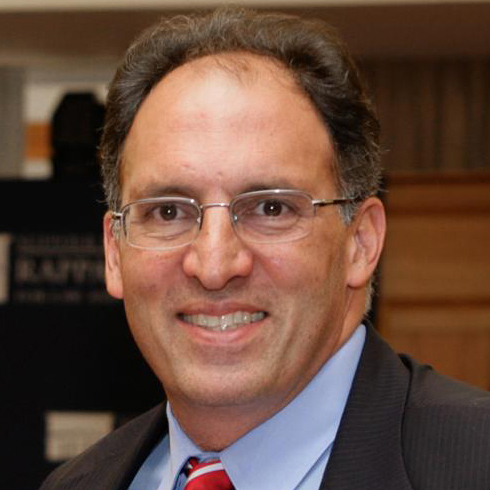 Founder Democracy Entrepreneurs
Alan is a social entrepreneur who has pioneered ways to empower citizens to make a difference. As founder of The Action Tank, he brings more than 25years of experience in coalition building and the creation of collective impact to address our nation's most pressing challenges.
Alan is the co-founder of City Year, a national youth service corps that inspired the development of AmeriCorps, America's federal investment in national youth service. Founded in 1988 with 50 young people in service inBoston, City Year is now a global organization operating in 29 cities in America and in Johannesburg and London. City Year annually enlists more than 2,500 young adults from all backgrounds for a demanding year of full-time community service, civic engagement and leadership development.
In 2007 Alan launched Be the Change, Inc., a nonprofit that creates national issue-based campaigns by mobilizing bipartisan coalitions of nonprofits, social entrepreneurs, policymakers, private sector leaders, academics, and citizens.  Alan is an honors graduate of Harvard College and Harvard Law School.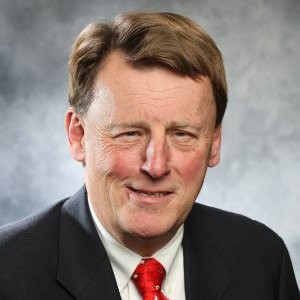 Chairman Winning Strategies
Jim McQueeny has a varied career in journalism, government service and communications. Before forming Winning Strategies, Jim served as Chief ofStaff and Spokesman for U.S. Senator Frank Lautenberg, CommunicationsDirector for the New Jersey General Assembly, White House Bureau Chief forThe Star-Ledger, and an on-air correspondent and talk show host for threeNew York-market television stations across three decades. He also served as a media instructor at Rutgers University.
Jim is on the board of the London-based International Public RelationsAssociation (IPRA) for whom he is the NGO liaison to the United Nations'Department of Global Communications. He has also been an advisor on media and government transparency and freedom of expression issues globally, from the Far East to the Mideast. He is a member of the National Press Club inWashington D.C. and a juror for the National Academy of Television Arts &Sciences Emmy Awards.
Jim has been a decade-long board member of the New Jersey Institute for Social Justice, established by former U.S. Attorney General Nicholas Katzenbach.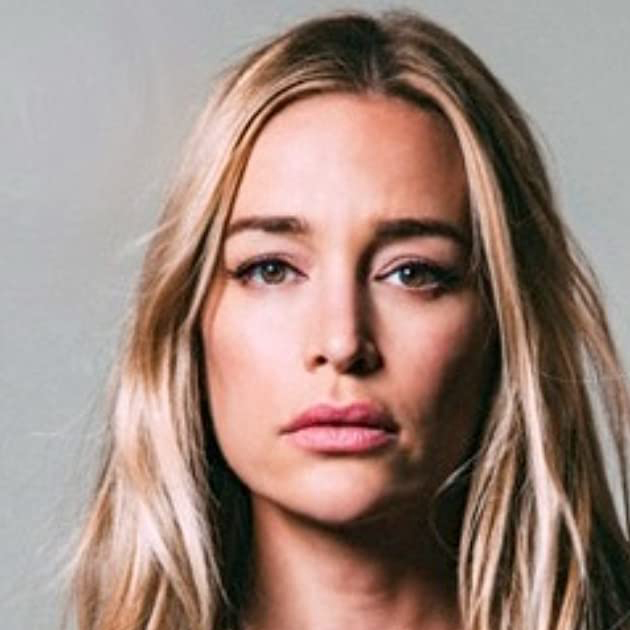 Film, Stage, and Television Actor
Piper Perabo is a Golden Globe nominated film, stage and TV actor. Born in Dallas, Texas, and raised in New Jersey, she graduated summa cum Laude from Ohio University. In 2000 she was cast in a breakout role in Coyote Ugly.Since then she has been seen in such films as Christopher Nolan's "The Prestige" with Hugh Jackman and Christian Bale, "Because I Said So" with Diane Keaton and "First Snow", with Guy Pearce, "Cheaper by the Dozen" films with Steve Martin, "Imagine Me & You" with Lena Heady and Matthew Goode and the crime drama "10th & Wolf" with an ensemble cast that included James Marsden and Dennis Hopper. She starred alongside Bruce Willis, JosephGordon Levitt, Emily Blunt and Jeff Daniels in Rian Johnson's sci-fi action film,"Looper."
Outside of her work on screen and stage, Perabo is also an activist. She is a Voice for the International Rescue Committee to raise awareness about the world's refugee crisis and help those displaced by conflict, religious persecution and political oppression around the globe.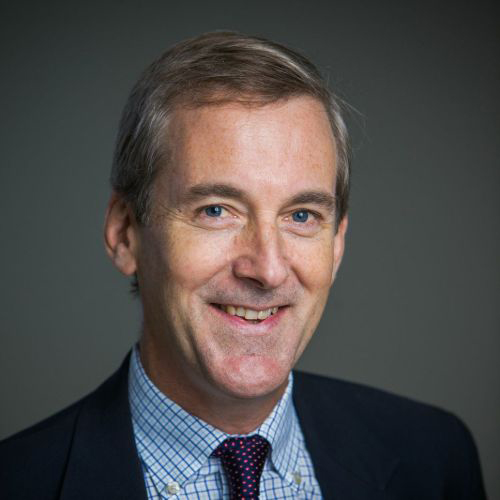 Founding Partner Housatonic Partners
Will founded Housatonic Partners in Boston in 1994 and has been ManagingDirector since that time. Prior to founding Housatonic, Will worked with T.Rowe Price Associates and Walker & Company where he was named to theBoard of Directors. Will has over two decades of experience investing in recurring service companies across a wide variety of industries.
Will is a Director of Carillon Assisted Living, Lincoln Peak Holdings, QMCInternational, and ZircoDATA. Outside of Housatonic, he is a Director of WGBH, the College of the Atlantic (Chair), as well as a founding partner at FARM, a social impact investing collaborative. He is the author of The Outsiders.
Will holds an A.B. from Harvard College and M.B.A. from the StanfordGraduate School of Business.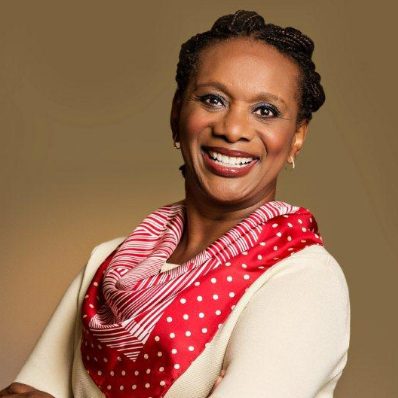 Founding Member of BECA - Former CRO, Amway
Candace Matthews, a retired Corporate Executive, is now a full-time Board Member.  Her most recent position was the Chief Reputation Officer (CRO) for Amway, responsible for overseeing Amway's global reputation strategy, Corporate Social Responsibility and Amway Brand. She was also the executive sponsor of Amway's Diversity & Inclusion employee networks.
In that role, Matthews reported directly to CEO Milind Pant and served on Amway's Global Leadership Team, Amway's key decision-making body focused on strategy development and delivering meaningful ABO and customer experiences. She also served on Amway's Executive Staff comprised of cross-functional executive leaders focused on enhancing company culture, talent capabilities and global market needs.
Prior to assuming the role of CRO in 2020, Matthews spent 6 years as Regional President (RP) of the Americas at Amway, heading all operations in North, Central and South America for the $8.8 billion direct-selling leader. During her tenure as RP, revenue increased 20 percent and profitability grew significantly (+6.3 points). With revenues of over $1.5 billion, the region leads the enterprise in growth.
Matthews joined Amway in 2007 as Chief Marketing Officer. Prior, she managed all company operations as president of SoftSheen-Carson, a Consumer Products Division of L'Oreal USA, including the merger of the L'Oreal SoftSheen and Carson businesses. She has held marketing leadership positions at Coca-Cola, CIBA Vision (Novartis) Corporation, Bausch + Lomb, Procter & Gamble and General Mills, where she began her marketing career.
Her board appointments include Herman Miller, Bic Corporation, Aptar, Fifth Third Bank – Regional Board, Spectrum Health Foundation, Figure Skating in Harlem and Frederik Meijer Gardens and Sculpture Park.  Her former board appointments include Popeyes Louisiana Kitchen, Carnegie Mellon University Board of Trustees and Stanford Graduate School of Business Advisory Council.
Matthews earned her B.S. in metallurgical engineering and administrative and management science from Carnegie Mellon University and an MBA from Stanford University Graduate School of Business.
She is the recipient of many awards, including the Black Enterprise "Most Powerful Women in Business" (2019), Café Mocha "Game Changer Award" and the Stanford Graduate School of Business Alumni Tapestry Award (both in 2014), Advertising Age's "Women to Watch" (2011), Black Enterprise "Corporate Executive of the Year" (2009) and CEW Achiever Award (2007).